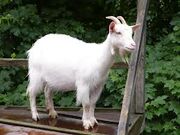 News Obituaries
Edit
Alfred the Goat
Edit
Alfred the Goat, author of the popular young adult romance novel series Ellipses, died on Friday in a freak train accident, while in town to appear at a book signing.  He is survived by his kids.
David L. Johnson
Edit
David L. Johnson, a mid-level bureaucrat at the Bureau of Magic and Spellcasting, died this week after a fake wand created quite the bruhaha.  He has no family to remember him, and he led a sad and lonely existence.  He will not be missed in any way.
Ad blocker interference detected!
Wikia is a free-to-use site that makes money from advertising. We have a modified experience for viewers using ad blockers

Wikia is not accessible if you've made further modifications. Remove the custom ad blocker rule(s) and the page will load as expected.