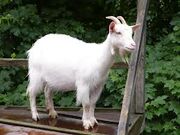 In a Daily Phoenix exclusive, this reporter can finally reveal the murderer of famed young adult romance novelist, Alfred the Goat: David L. Johnson.  The Bureau of Magic and Spellcasting employee, who has been dead for over a week due to a three-story fall while at work, is the lead, and so far only, suspect in the murder of Alfred the Goat, despite the fact that he is dead himself.  His trial will begin soon.
Ad blocker interference detected!
Wikia is a free-to-use site that makes money from advertising. We have a modified experience for viewers using ad blockers

Wikia is not accessible if you've made further modifications. Remove the custom ad blocker rule(s) and the page will load as expected.